Don't be afraid to make choices because you are afraid of making mistakes.
Don't be Afraid to try new things.
In doing so, you will find Joy in the Journey.
-Elder Carl B. Cook,
Look Up,
Jan 2012
Ensign,
p. 26
---
Our Favorite Quotes:

_

If one advances confidently in the direction of his dreams, and endeavors to live the life which he has imagined, he will meet with a success unexpected in common hours.

Henry David Thoreau

_

I urge you to examine your life. Determine where you are and what you need to do to be the kind of person you want to be. Create inspiring, noble, and righteous goals that fire your imagination and create excitement in your heart. And then keep your eye on them. Work consistently towards achieving them.

Elder Joseph B. Wirthlin, "Life's Lessons Learned", Ensign, May 2007, 45-47

_

They might not need me,

But they might!

I'll let my head be just in sight.

A smile as small as mine might be

Precisely their necessity.

Emily Dickinson

_

The only way to get through life is to laugh your way through it. You either have to laugh or cry. I prefer to laugh. Crying gives me a headache.

Marjorie Pay Hinckley

You are of a noble birthright. Eternal Life in the kingdom of our Father is your goal. Such a goal is not achieved in one glorious attempt, but rather is the result of a lifetime of righteousness, an accumulation of wise choices, even a constancy of purpose and lofty ideals. Amidst the confusion of our age, the conflicts of conscience, and the turmoil of daily living, an abiding faith becomes an anchor to our lives.

President Thomas S. Monson
Powered by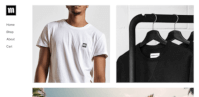 Create your own unique website with customizable templates.